Art Matters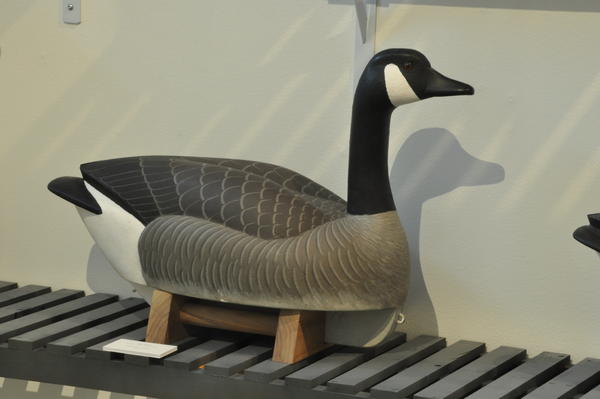 A honker on one of Frank Werners decoy stands
Retired Marine Master Sergeant Frank Werner is a long-time waterfowler, opera buff, and cross-cultural observer. He resides in St. Maries, Idaho. For more information, Google "Frank Werner Decoys."

Lewis-Clark State College in Lewiston, Idaho, invited me to participate in an exhibition called "Common Threads," which was, in essence, a presentation of the work of some regional folk artists. I thought that displaying my birds in the gridded enclosures I usually use to show them would be out of place in the context of a folk art exhibition.
The college's Center for Arts & History staff offered me a wall space nine and a half feet long upon which to hang a dozen, more or less, deeks. I am more comfortable hanging stuff on a wall than I would be setting birds on a covered convention hall table. I first thought I could display the birds on some plain white pre-finished shelving, but after giving it some thought, I decided to make some duckboards and use them in place of regular shelving.

I realized it would probably be difficult to balance deeks that have keels on a shelf. One solution that would work for flat-bottomed stool would be to remove the keels. However, the keels on my floaters are an integral part of my design and are necessary for proper function. They are more or less permanently attached. If I removed the keels, they wouldn't be decoys anymore. My bases solve the problem by holding the birds upright with the keels in place.
 
YOUR RECENTLY VIEWED ARTICLES
Free tutorials, expert tips, exclusive partner offers, and more straight to your inbox!