Feats of Clay
Sometimes it helps to make a model before you begin your carving.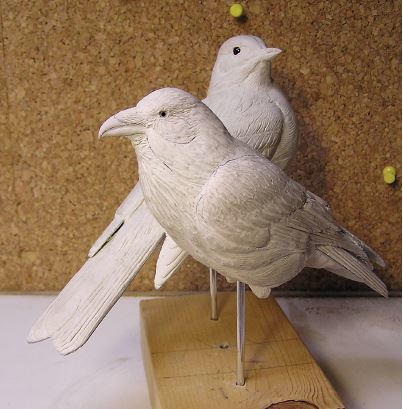 Photography by Jerry Simchuk
I created clay models of a 1/3 life-size common raven and a life-size American robin to prepare for the carvings in wood. Later in this article, I'll detail how I made a scrub jay model. 

Before carving a bird, I often make a clay model, something I learned from Larry Barth at a class at the Ward World Championship some years ago. These models are great for working out design questions, getting a better feel for a bird, and helping create a pattern for the carving. Once I've finished the model, I can use it as a reference as I work on the wooden version.  

A clay model helps you understand some key areas of the bird. The raven in the image above has an extra thick throat and breast feathering, things I could work out in clay. I also found the model helpful when working out the feathering around the flanks and vent region. You can see how I created hints of the raven's legs in the model, or at least the placement for the legs. Things like that are very helpful for visualizing the bird. 

I use clay models to present an idea to a customer if I need to clarify a pose or concept. I even created the entire legs and toes on one model so a customer could better visualize the project. The legs and toes eventually broke but they survived long enough to serve the purpose.   

You can make models with any kind of clay and at any scale. On occasion, I've used clay to create just a bust in order to visualize the head region. Why carve it in wood when you can figure it out in clay? You will cut down on the amount of firewood you produce with this approach.   

You don't need a lot of reference material to make a clay model. If I don't have a study skin, I like to at least have some nice profile shots, back shots, and head shots. With a skin you can get all your critical measurements directly from the bird. Without a skin, you will need to enlarge your reference photos to life size. The Western scrub jay measures 11.5 inches. Knowing the eyes were seven millimeters, I double-checked my photo enlargements by making sure the eyes in the pictures were the right size. 
YOUR RECENTLY VIEWED ARTICLES
Free tutorials, expert tips, exclusive partner offers, and more straight to your inbox!