Tropical Treat
Carving a palm frond can be an inspiring change of pace.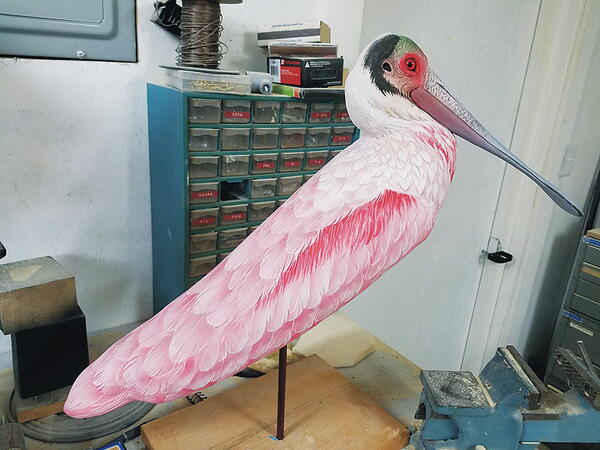 Tropical Treat
I think I will start out this article with a little wildfowl carving riddle. So here goes: What's interpretive, decorative, and folk art all over? Of course, everyone guessed the palm frond decorative or decoy. The palm frond decoy has a small, windowpane-size history within the American decoy experience. It originated in California during the 1930s, when the state was importing palm trees from other parts of the world to decorate the landscape. As the palm tree grows, the palm frond (which is actually the stem of the palm tree leaf) eventually falls to the ground, providing a free the palm frond is also very hydroscopic, with water being very easily absorbed into the fiber-filled interior. After a limited use in the water, the palm frond decoy became non floating. When the market got flooded with surplus balsa wood and cork, the palm frond was nearly forgotten.

But not entirely. Carvers and decoy makers still made use of this distinctive material. In 1995, the palm frond was reintroduced as a new category for competitive wildfowl carving in the PSWA show, held in San Diego. It is now an active category in three different shows in the U.S.: the Pacific Flyway Decoy Association show, in Sacramento, California; the Ohio Decoy Collectors and Carvers Association show, in Independence, Ohio; and the Ward World Championship, in Ocean City, Maryland.

In this article, I will talk about turning a palm frond into a roseate spoonbill. For this piece, as well as any palm frond project, you will need the usual carving tools and paint. You will also need a liberal amount of imagination
YOUR RECENTLY VIEWED ARTICLES
Free tutorials, expert tips, exclusive partner offers, and more straight to your inbox!