North American Pipits
Don't dismiss these birds as boring LBJs; they have stories to tell.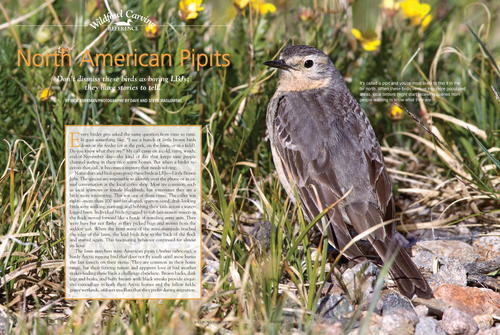 Regular contributor Rick Burkman started watching birds at a young age 50 years ago. Many years later he began a professional writing career and has written for bird magazines, regional magazines, and newspapers. He currently serves on the planning team and communications committee for the Wisconsin Breeding Bird Atlas II, and conducts regular field surveys for breeding birds.

Every birder gets asked the same question from time to time. It goes something like, "I see a bunch of little brown birds down at the feeder (or at the park, on the lawn, or in a field). Do you know what they are?" My call came on a cold, rainy, windy, end-of-November day—the kind of day that keeps sane people channel surfing in their nice warm homes. But when a birder receives that call, it becomes a mystery that needs solving.

Naturalists and biologists group these birds as LBJs—Little Brown Jobs. The species are impossible to identify over the phone or in casual conversation at the local coffee shop. Most are common, such as local sparrows or female blackbirds, but sometimes they are a little more interesting. This was one of those times. The caller was right—more than 100 warbler-shaped, sparrow-sized, drab-looking birds were walking, running, and bobbing their tails across a waterlogged lawn. Individual birds zigzagged to nab late-season insects as the flock moved forward like a horde of traveling army ants. They were busy but not flashy as they picked bugs and worms from the sodden soil. When the front wave of the mini-stampede reached the edge of the lawn, the lead birds flew to the back of the flock and started again. This fascinating behavior continued for almost an hour.
YOUR RECENTLY VIEWED ARTICLES
Free tutorials, expert tips, exclusive partner offers, and more straight to your inbox!