A Carolina Classic
Carving and constructing a Canvas and Wire Decoy.

Updated May 29, 2019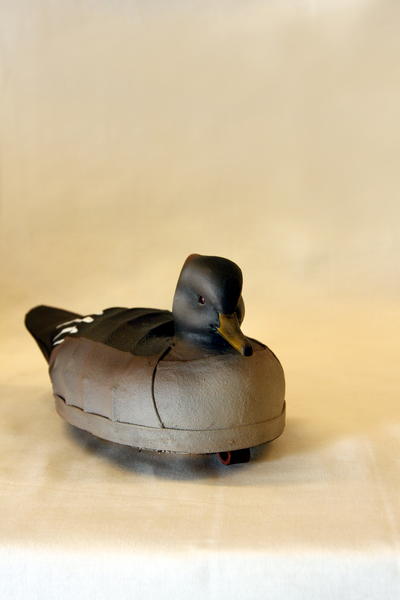 Photography by Keith Hendrickson
Charles Holloman resides in Greenville, North Carolina, and is the loving husband to a beautiful wife and father to three great kids. Keith Hendrickson is a freelance writer/artist/ photographer who also works for the North Carolina Wildlife Resources Commission. He has been carving rough working decoys for around 30 years and won best of show at the Ward Museum's Chesapeake Challenge.

You can trace the history of the canvas decoy back to the turn of the twentieth century and the coasts of North Carolina and Virginia. Carvers often made these decoys from scraps they found in the shipyards of lumber, sail canvas, and wire salvaged from shipwrecks. These birds were lighter than traditional wooden decoys. And, because canvas decoys did not require a large solid piece of wood, their craftsmen could economically construct large birds such as geese and swans. The Carolina birds traditionally needed only to resemble the fowl they were trying to fool, so their paint patterns tended to be very basic and the decoys lacked eyes.

The canvas-and-wire bodies were fairly delicate, so very few early canvas decoys remain today, but their significance in the history of the waterfowl decoy makes them desirable in any collection.

I discovered canvas decoys when I was taking a carving class and noticed Charles Holloman working in another section of the shop on a really nice hooded merganser hen. It attracted my attention because it was a canvas decoy. By the time my bird was ready to be primed, I was doomed. I just had to talk to Charles and pick his brain to learn as much as possible about carving and constructing a canvas decoy.

Charles is an award-winning, self-taught carver who started about eight years ago after attending the East Coast Wildfowler's Show. He watched judges float some birds, became interested, and started buying up carving supplies. He learned mostly through trial and error, but somewhere along the line he took a class from the late Chuck May on constructing canvas birds. He has been hooked on the process ever since.

The supplies and tools you need for a canvas bird are fairly basic. Many carvers probably have all the items in the shop already. The one thing Charles and about every serious carver with whom I have talked emphasize is that you need a good pattern. So that is the first thing on the list.

Read the complete article in Wildfowl Carving Magazine's Winter 2013 issue.
 
If you enjoyed this carving, be sure to check out more incredible ducks in Wings on the Water. Wings on the Water combines the best reference articles from the pages of Wildfowl Carving Magazine with a new collection of images. It provides a wealth of information about more than two dozen aquatic birds and is an in-depth look at a variety of ducks and geese for carvers and waterfowl enthusiasts alike, described in vivid prose from the magazine's best writers. Wings on the Water contains detailed, intoxicating images by Steve Maslowski, one of the stalwart veterans of wildlife photography.

Click here to purchase your copy! Wings on the Water
YOUR RECENTLY VIEWED ARTICLES
Free tutorials, expert tips, exclusive partner offers, and more straight to your inbox!