Alpha, Part One
Carving a gyrfalcon
By: Ted Smith

Updated April 03, 2017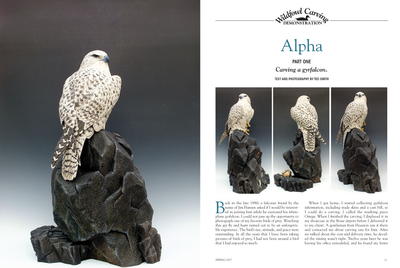 With the help of his wife and a great number of friends, Ted Smith has been a full-time bird carver since 1979. The carving shows that he enjoys most are the Columbia Flyway Wildlife in Vancouver, Washington, and the Ward World Championship in Ocean City, Maryland. Ted lives in Nampa, Idaho. Email him at tjsmithbirdcarver@cableone.net or visit his website at http://deerflatwildfowlartstudio.weebly.com.
 
Back in the late 1990s a falconer friend by the name of Jim Hansen asked if I would be interested in joining him while he exercised his white phase gyrfalcon. I could not pass up the opportunity to photograph one of my favorite birds of prey. Watching this gyr fly and hunt turned out to be an unforgettable experience. The bird's size, attitude, and grace were outstanding. In all the years that I have been taking pictures of birds of prey, I had not been around a bird that I had enjoyed so much.
 
When I got home, I started collecting gyrfalcon information, including study skins and a cast bill, so I could do a carving. I called the resulting piece Omega. When I finished the carving, I displayed it in my showcase at the Boise airport before I delivered it to my client. A gentleman from Houston saw it there and contacted me about carving one for him. After we talked about the cost and delivery time, he decided the timing wasn't right. Twelve years later he was having his office remodeled, and he found my letter and the photographs of Omega. The timing must have been right, for he called me and placed the order. This was my third gyrfalcon carving, so I had some definite ideas of what I wanted to do this time and also what I wanted to do differently from my earlier pieces. I had a great piece of tupelo that I had purchased from Pete Palumbo, so I was ready to begin.
 
When I composed this piece, I was working with black and white, hard and soft, and—by adding the wolverine skull—some sense of mystery. When figuring out the composition, I did not lock into a final look as I knew I would make changes along the way.
 
REFERENCE

In an effort to make my carvings as realistic as I can, I like to have access to study skins. For this carving, I visited the Archives of Falconry in Boise, where I got to study and photograph seven different white-phase gyrfalcons. The study skins ranged in length from 19 to 21 1⁄2 inches. The color markings were also completely different from bird to bird.
 
The study skins give you feather shapes, feather patterns, colors, and the size of the feet and talons as well as letting you photograph areas that you cannot get from a live bird. I use the measurement of the upper mandible as a gauge when blowing up photos for my patterns. Be aware that measurements from a study skin cannot be relied on, due to what the taxidermist did when mounting the bird and shrinkage from the drying of the skin.
 
PATTERNS

I make up patterns from photos I have taken and found in magazines and on the Internet. When doing a carving, I like to make up at least two or three, and I end up using the one that I like best. Most of my patterns in my files have additions and notes I added later as I went from carving to carving.
 
When I cut out the block, I leave extra wood around the head, bill, neck, and also the wing tips. Just remember, this is an art piece. I always find someone who finds fault with a sculpture. (Except for my wife, and she knows that I am the best!)

This article is from the Spring 2017 issue. For more information on our issues, check out our issues page.
Tags / Related Topics
YOUR RECENTLY VIEWED ARTICLES