Carve and Paint an American Wigeon Hen, Part Three
Before you get to the final painting, you want your decoy to have a solid base.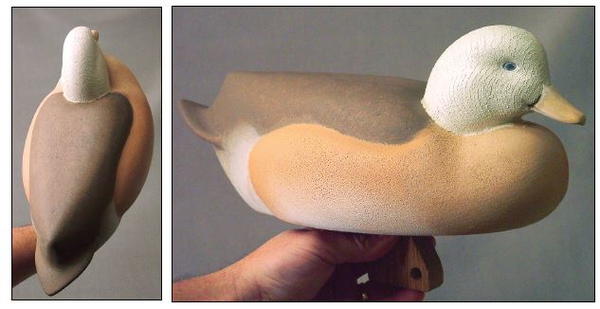 Photography by Tom Matus
This is the hen once it's been textured. In the next issue, we'll tackle the painting.

There are many ways to paint a hunting decoy. I have found that one good way to begin the process is by using acrylic paste mixed with texture paste to create a good surface for the paint. I add this texture with a sponge or hog-bristle brush, which add imperfections and dimples that diffract light from the surface and keeps the decoy from shining.

Once I've carved and sealed the decoy, I do one final sanding with 180-grit paper so I have a uniform surface for texturing. Wipe the bird off with a tack rag so that any fine residues from the sealer do not impede the adhesion of the next step. A hot, damp cloth also works well. Now, I am ready to add the texture paste to the feather groupings of the decoy.

I will use acrylic paint and acrylic texture paste in the ratio of about 60/40 to get the desired effects. I strongly suggest that before you begin this process, you try practicing on a separate piece of wood. I like to use a piece of 1- by 10-inch pine for experimentation. If the mixture isn't to your liking, adjust accordingly. If you have too much paint, it will not peak (like a meringue pie). If you have too much texture paste, the mixture dries too fast and you can't apply it uniformly.

This article is from the Spring 2010 issue. For more information on our issues, check out our issues page.
YOUR RECENTLY VIEWED ARTICLES
Free tutorials, expert tips, exclusive partner offers, and more straight to your inbox!