Roadrunner
A decoy carver moves to decoratives by tackling this desert bird.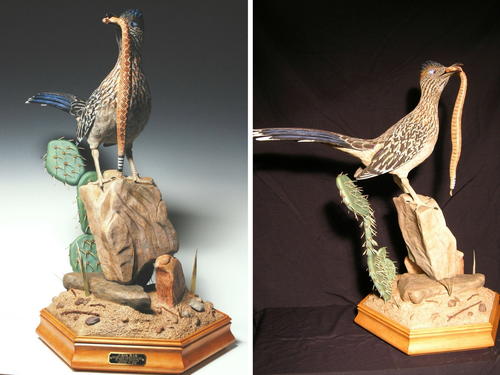 Thomas McCollum took up carving after he saw a decoy-carving contest at an outdoors show in Harrisburg, Pennsylvania, in the late 1970s. Since his first attempt at a mallard, he's carved hundreds of decoys and won many ribbons and best of shows. He lives in Shamokin, Pennsylvania, with his wife, Sandra, their dog, Santana, and cat, Kiwi.

Through my years of decoy carving, I often thought about the beautiful work I saw every year at the Ward World Championship in Ocean City, Maryland, especially the work in the decorative life-size category. Every time I attended the show, I left awestruck and with a burning desire to break away from carving hunting decoys and start carving more elaborate pieces. That desire would slowly dissipate as time went on, and I succumbed to the lure of the decoy and resumed carving for various competitions in my area.
 
The need for change eventually took hold and wouldn't let go. In May 2011, I finally stepped into the world of textured carvings and things like feet, rocks, and weeds. It was a great feeling, to say the least. It also required a commitment to give up decoys for a while so I could spend several months planning and carving a full-size decorative piece. 

I wanted to do a piece that would include a snake because I had started carving snakes as another way to take a break from decoys. I considered doing a hawk or falcon with a snake hanging from its mouth, but not only had other carvers done that many times, I also didn't have a piece of tupelo that big. Then, it hit me—I'd do a roadrunner with a rattlesnake dangling from its mouth, standing on rocks and surrounded by cactus and weeds. I had no doubt this would be what I would be working on for the next 10 months.

This article is from the Summer 2012 issue. For more information on our issues, check out our issues page.
YOUR RECENTLY VIEWED ARTICLES
Free tutorials, expert tips, exclusive partner offers, and more straight to your inbox!