Carving a Common Redpoll - Part Two: Painting
Make sure there's nothing common about your carving.
By:
Text and photography by Tom Park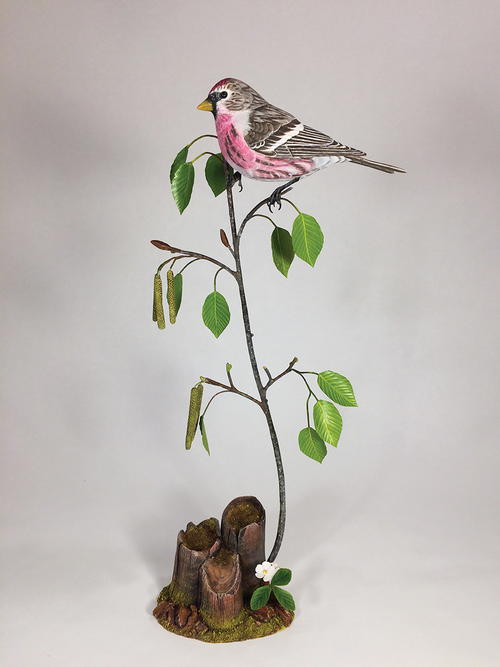 In the first part of this demonstration (Winter 2019), I completed the carving, texturing, and sealing of the common redpoll. I did not apply gesso as I still had to construct the feet and fit them to the bird and the branch. That involves a lot of handling and some of the gesso would rub off. With that step completed, I have now given the carving two coats of gesso and am ready to start painting. Painting the common redpoll involves a fairly limited palette. I will use a variety of browns (mainly burnt umber); grayish white on the underparts; red or pink on the crown, breast, flanks, and rump; black for the bib, forehead, and feet; and yellow for the bill. The color swatches show the colors I used with approximate mixes. I recommend experimenting with the mixes before applying them to the carving.

I will use mostly Jo Sonja's brand paints. The exceptions will be the red and black areas. For the red I experimented with a number of different paints and found I got the best results with Golden's quinacridone red. For black areas like the bib and forehead I used Chroma sable and for the feet I used Liquitex Mars black.

There are many different ways of arriving at a suitable color. For instance, I could get a reasonable brown by combining burnt sienna and ultramarine blue. But I got equally good results by starting with Jo Sonja's burnt umber and lightening or darkening it as necessary. For the red/pink areas, I got satisfactory results with alizarin crimson but decided I got even better results with quinacridone red. For the pink areas I got the best results using thin wash coats of straight quinacridone red. Where I needed greater intensity of the color, I did additional washes.
YOUR RECENTLY VIEWED ARTICLES
Free tutorials, expert tips, exclusive partner offers, and more straight to your inbox!