Demonstration: Carver's Block
What can you do when you just can't get going?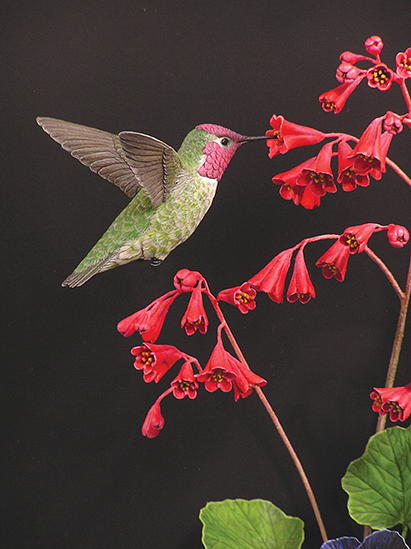 Feeding Time depicts a male Anna's hummingbird feeding on coral bells flowers and pansies inserted into a wall-mounted hanging basket. From start to finish, this project took more than five years, thanks to what I call "carver's block." The piece won first in advanced decorative life-size wildfowl at the 2018 Ward World Championship.

Many authors fear encountering writer's block, the feeling of being unable to get thoughts down on paper. But have you ever heard of carver's block? Probably not, since I made that term up. Nonetheless, it's something that does happen and I'm sure all carvers have experienced it to some degree at some point.

It happened to me after a long-time collector approached me at an art show, hoping to add to her collection. When discussing what she wanted, she told me her favorite flowers were pansies. I had no problem with that—they would be fun to create with fire and metal. I asked her what bird she wanted. She said she would like a hummingbird. I agreed to do it, but I was already thinking that pansies are ground dwellers and hummingbirds don't feed from them. I wasn't sure it would work.

With the species, habitat, and other commission details nailed down, my only problem was how in the heck I was going to combine pansies with a hummingbird. I wasn't worried—I had an entire year to figure out how to make it work.

And that's when my carver's block began.

One of the first things that can create carver's block is focusing on the negative. As the year went on, whenever I thought about the project, I kept thinking how pansies and hummingbirds don't mix. There could be a chance occasion when a hummingbird fed on pansies, but I kept thinking, "It just can't happen," instead of finding a way to make the two elements come together for a pleasing composition.
YOUR RECENTLY VIEWED ARTICLES
Free tutorials, expert tips, exclusive partner offers, and more straight to your inbox!