Back to the World: Carving and Painting a Common Loon
How to carve and paint a common loon, part one.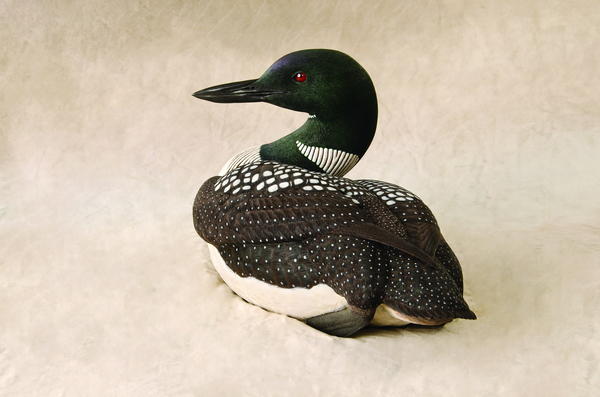 Photography by Laurie J McNeil
It had long been a dream of mine to carve a one-piece common loon for the pairs competition at the Ward World Championship in Ocean City, Maryland. The common loon is Minnesota's state bird and it has been my favorite species since I began my carving career in 1984. You might call it "my" bird"because I won in several of my first competitions with loons. Jett Brunet even began calling me "Loon Lady" in 1987 and the nickname stuck.

In 1986 I purchased a large piece of tupelo that I planned to use specifically for the World Championship whenever loons were the designated species for the pairs division. A couple of years after the wood traveled from Louisiana to my doorstep in Minnesota I had a friend trim it down with a chainsaw so that it would fit the 12" clearance of my Delta band saw when the time arrived to use it. I did not think I would have to wait almost a quarter-century.

The last time I attended the Ward World Championship was in 2006 and I had carved very little since then, mainly for health reasons. Then, in 2009, Gary Yoder told me that the Ward Museum had selected the loon as the designated species for the 2011 World Pairs. (Even though this World-level division is called "Decorative Life-size Waterfowl Pair" and normally requires a hen and a drake of the designated species, the loon is such a big bird the show required only a single entry in 2011.) The news elated me. The time had finally come for the loon! In April 2010, while everyone else was at the World Championship in Ocean City, I was home in Minnesota, starting a clay model for my one-piece loon, one year early. Over the next 12 months I spent eight to ten hours a day on the loon, as I carved my way back to the Ward World Championship in 2011.


Read the rest of this article in Wildfowl Carving Magazine's Summer 2013 issue.

YOUR RECENTLY VIEWED ARTICLES
Free tutorials, expert tips, exclusive partner offers, and more straight to your inbox!