The Beach Robin
Call it what you willred knot and robin snipe also workthis little shorebird is fun and easy to carve.
By:
Text and photographs by Keith Hendrickson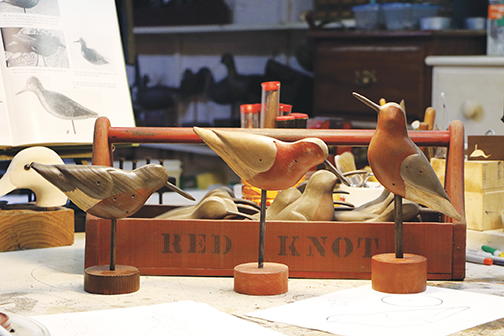 A letter in this magazine recently caught my eye. The writer said he wanted a simple hand-carving project that would help him with the basics of carving and painting. This article should fit the bill, while also providing some history about a neat little bird. The shorebird known as the red knot, robin snipe, or beach robin (depending on locality) used to fill many kettles in the 1800s and as late as the Great Depression and World War II years. Because the bird responded well to decoying and calling, many decoys remain today.

To learn more about shorebirds, I headed to Charlotte, North Carolina, to visit friend, author, historian, and collector Kroghie Andresen. Kroghie has one of the most comprehensive collections of North Carolina hunting decoys in the world and has written and published many books and articles on the subject. I left from my visit with a new appreciation for the beach robin.

Most refer to this bird as the red knot. It is a medium-sized shorebird about as big as a robin (and in the springtime, about the same color). It moves around in large darting flocks much like those of the snipe. The red knot nests in the Arctic tundra and will migrate in the fall some 9,300 miles to the southern end of South America. In the spring, wearing its bright reddish breeding plumage, it makes its way back north to the Arctic nesting grounds in large, dense flocks. It has a grayish plumage the rest of the year. The red knot has a fairly short bill that it uses to feel for its food, which includes small mussels, insects, worms, and crustaceans. On the northern spring migrations, the birds feed on the millions of horseshoe crab eggs that litter the beaches along the Atlantic coast. Because of the somewhat short bill, it feeds in the shallow sea-meadows (marshes) and beaches, mainly near coastal inlets.

YOUR RECENTLY VIEWED ARTICLES
Free tutorials, expert tips, exclusive partner offers, and more straight to your inbox!