Just Like 1936 - Painting
Make it look nice - and then make it look old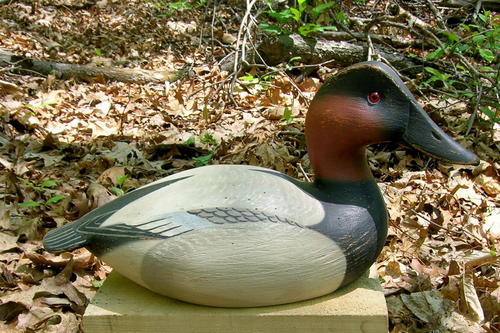 Thomas McCollum took up carving after he saw a decoy-carving contest at an outdoors show in Harrisburg, Pennsylvania, in the late 1970s. Since his first attempt at a mallard, he's carved hundreds of decoys and won many ribbons and best of shows. He lives in Shamokin, Pennsylvania, with his wife, Sandra, their dog, Santana, and cat, Kiwi.

There are many techniques for making contemporary antique decoys. You may have a few ideas of your own. I wanted to make this demonstration as simple as possible, yet still end up with satisfying results in the end. In part one, I explained how I carved a decoy in the style of a Ward brothers' 1936 canvasback. Unlike the Ward brothers, I used power tools to carve my decoy, but you can also use hand tools. When painting, I will be using Grumbacher Pre-Tested Professional Oils, along with Liquin, a medium that helps the paint's flow and increases the drying time. I will be using only four brushes to paint the decoy, along with only seven different colors. When using oil paints and paint thinners, always remember to keep windows open and use fans to bring fresh air in and bad air out. The fumes can make you sick and dizzy. Also, you should put paper towels or rags with paint thinner and oil paint on them outside to evaporate. Not only could these be flammable, they can also smell bad when left indoors. Painting with oils is not like painting with acrylics. Use caution and read the warning labels.

This article appeared in the Winter 2015 issue of Wildfowl Carving Magazine. Learn how to carve this decoy here.
YOUR RECENTLY VIEWED ARTICLES
Free tutorials, expert tips, exclusive partner offers, and more straight to your inbox!