North Carolina Redheads
Core Sound is a body of water and a style of decoy carving.
By:
Text and photography by Keith Hendrickson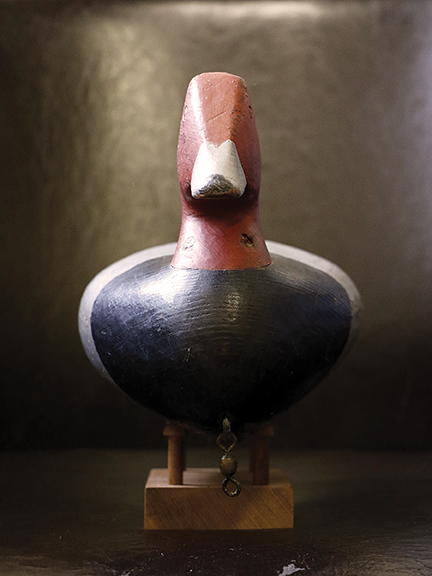 Looking at the front profile of most Core Sound decoys, you can see how the back and shoulders are rounded down to the side chines, and the bottom is rounded up to those chines. Some decoys have more pronounced chine lines and others are simply rounded. Most of the bottoms on early birds were rounded, but flat bottoms began to show up in more modern blocks. It meant one less step to carve and made the birds more stable in the water.

I had the hunting bug when I got out of school, so I jumped at the chance to work at a duck club on the North Carolina coast near Harkers Island. One image from that time remains etched in my mind—the sight of tens of thousands of ducks whirling around in a massive flight and settling down onto the property's freshwater lake. The ducks were redheads, a bird that Core Sound hunters have pursued for well over 100 years. I remember watching the black-and-red cloud rise and fall as the ducks circled and waited for their turn to pitch down to the water below.

Since the beginning of time, redheads have migrated down the Atlantic flyway to winter around Core Sound, the waters between Carteret County and a portion of the Outer Banks. When market gunning boomed during the late 1800s and early 1900s, Core Sound-style decoys proliferated along the North Carolina coast, mirroring other decoy styles found along the state's shores. North Carolina watermen—local fishermen and boatbuilders—also guided hunts at many of the hunting and sportsmen clubs that sprang up all over the coast. They needed decoys that could be made quickly from easily available materials, so Core Sound decoys were often made with recycled components. Because the Outer Banks were notoriously treacherous for ships, so, decoy makers could use fragments from wrecks. They rarely had the money for glass eyes, so their primitive decoys either had no eyes at all, or carvers would stamp them in with an old rifle cartridge and highlight them with paint. Ballast weights might be made from flattened net weights, pieces of propeller shafts, railroad spikes, or spikes from shipwrecks. It was also commonplace for the carvers to recycle other carvers' blocks, making it difficult to identify the makers today.

Carvers normally chopped out their blocks with a hatchet and carving knife and finished their decoys with a rasp and a piece of sharp steel or glass to smooth the rougher grain. Sandpaper was at a premium, so many carvers left their blocks rough. The heads were generally thin and boxy and were attached with a few nails and perhaps a dowel, large nail, or long screw running through the neck from the top of the head. Painting was minimal and often utilized whatever colors were in the boat shed. Feather patches were usually exaggerated in size to be more visible to the duck. Line ties could be just a large-headed nail hammered into the front of the bird or a loop of old shoe leather or canvas nailed to the decoy.
YOUR RECENTLY VIEWED ARTICLES
Free tutorials, expert tips, exclusive partner offers, and more straight to your inbox!