Saw-whet Owl, Part One
If you get the dimensions right, you'll discover that this bird is a real handful.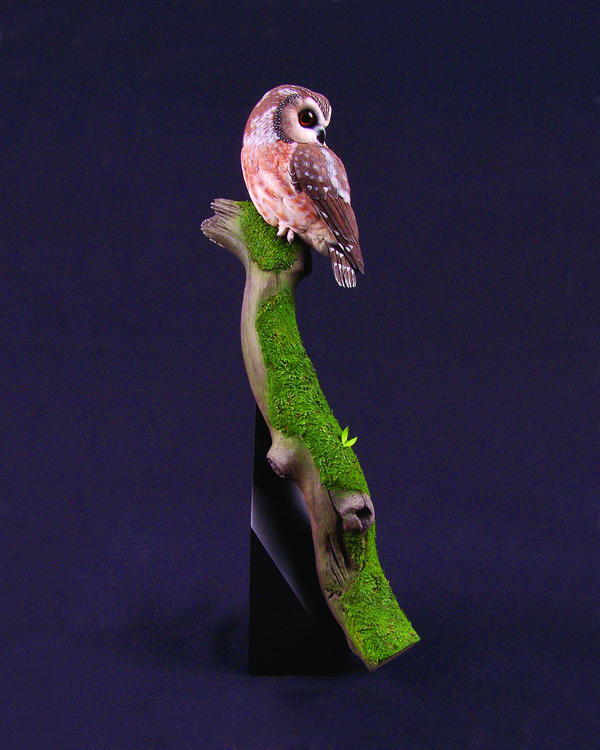 Photography by Al Jordan
The owl is burned and ready for painting. I have not burned the face, head, breast, and under-tail coverts. I prefer to paint these sections as a smoothie. I refer to this as texturing with paint. Now seal the owl with Deft Sanding Sealer. I'll demonstrate the painting in the next issue.

The saw-whet owl is an almost adorable little killing machine. It ranges in size from six to eight inches in length and is the smallest owl found east of the Rocky Mountains. Many carvers tend to make their saw-whet owls too large. To get an idea of the bird's true size, consider that when people band these little guys they place each one in an empty 12-ounce soda can for weighing and measuring. These owls tend to be almost tame, which allows carvers to do some very close viewing and photography. 

When planning this carving, I decided I wanted the owl to give the impression of being up high and therefore looking down. I accomplished the downward stare mainly through the angle I established with the forehead, facial disk, and eyes. The pattern for this owl is suitable for any head position. Your owl can look up or down, face straight ahead, or have the head facing back or slightly turned. You can determine the head position after you cut out the owl. I'll have you leave plenty of wood with this in mind.

This article is from the Winter 2011 issue. For more information on our issues, check out our issues page.
YOUR RECENTLY VIEWED ARTICLES
Free tutorials, expert tips, exclusive partner offers, and more straight to your inbox!