Carving a Common Redpoll
This songbird will be simple, but adaptable.
By:
Text and photography by Tom Park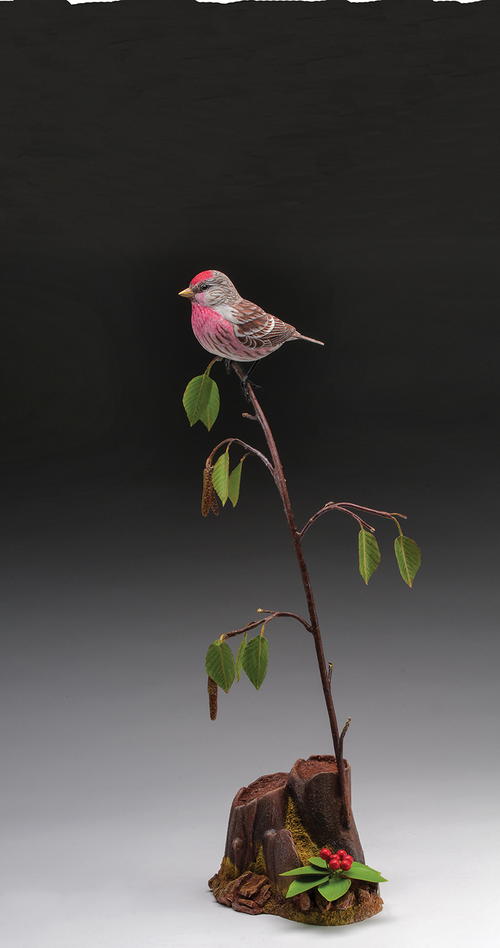 The common redpoll (Acanthis flammea) is a winter finch that breeds in northern Canada. It is a brown-and-white bird with heavily streaked sides. It derives its name from a small, red forehead patch. The redpoll has a black chin patch, black feathering around a yellow bill, and two white wing bars. The bill is small and pointed and almost looks like it has been pushed back into the head. The tail is deeply forked. The chest and upper flanks of the male are a pale red. During the breeding season, the forehead patch, cheeks, breast, and rump become a deeper red. The female, while similar in appearance to the male, may be a bit darker and more streaked, and only the forehead and crown have the red coloration.

In general, redpolls are seen in more populated southern areas only in winter, when they move as far south as the central United States They are able to withstand extreme cold so they migrate due to food shortages rather than temperature. Redpolls are seed eaters and prefer seeds from birch, alder, and willow—a fact to keep in mind when choosing habitat.

I deliberately chose a simple pose for this carving because I wanted to be able to show it in more than one habitat. I did not turn the head or tail but I did drop the wings somewhat to reveal the red coloring of the rump. One leg is tucked up into the belly feathers and the other is extended so it can be placed on a slender sloping branch. The pose is such that both legs could be tucked in to sit in a resting position or extended for a more alert pose.
YOUR RECENTLY VIEWED ARTICLES
Free tutorials, expert tips, exclusive partner offers, and more straight to your inbox!