More Than a Mimic
The brown thrasher isn't just the sum of its influences. This bird can really sing.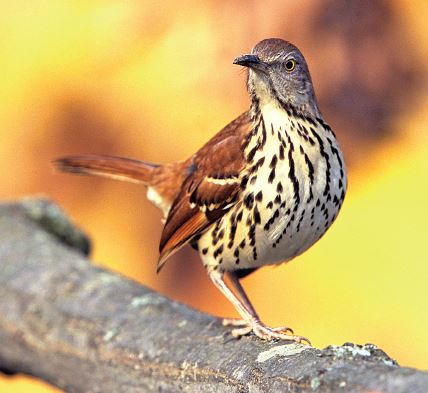 Photography by Maslowski Productions
Named for its color and for its habit of sometimes "thrashing" ground cover to find food, the brown thrasher has been steadily increasing its distribution.

"I am more attracted to that house as a dwelling place," wrote Henry David Thoreau in 1856. "To live where you would hear the first brown thrasher!"

Thoreau was clearly one human captivated by the brown thrasher's striking songs. Today, the brown thrasher (Toxostoma rufum) seems equally partial to humans, or at least favors the shrubby forests and brushlands that often result from human activity. Brown thrashers have become beneficiaries of forest clearings that people create for agriculture, fire suppression in grasslands, or vegetative regrowth. As European-style settlement moved westward across North America, the landscape changes that followed in its wake extended the brown thrasher's range. What was once a primarily eastern and Midwestern breeder has now become a regular visitor to Canada's Maritime Provinces and the North American Great Plains. Today, the brown thrasher's highest breeding density is in the Central Great Plains, lands that saw few of the birds before the 1800s. Some brown thrashers have also started breeding throughout Florida, including forays as far south as the Florida Keys.

This article is from the Winter 2011 issue. For more information on our issues, check out our issues page.
YOUR RECENTLY VIEWED ARTICLES
Free tutorials, expert tips, exclusive partner offers, and more straight to your inbox!