Yellow-billed Cuckoo
The so-called rain crow is a shy and surprising species.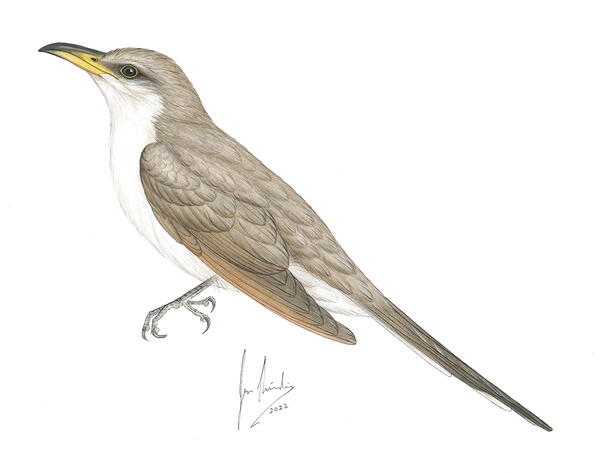 Yellow-billed Cuckoo
Cuckoos, slightly bizarre mid-sized songbirds, have added a few words to human languages over time. Cuckold and coccyx come to mind. Cuckold because cuckoos occasionally lay their eggs in other birds' nests, and coccyx because an ancient physician thought that our tailbones looked like the curved beak of the cuckoo. In addition, we have cuckoo clocks and cuckoo cartoon characters (think breakfast cereal), and humans and animals behaving oddly are simply called "cuckoo."

Of course, cuckoos don't know about their impact on society. In fact, yellow-billed cuckoos (Coccyzus americanus), one of the North American cuckoos, do their very best to stay hidden and out of sight and prefer to have little to do with humans or other creatures that come their way. Even when disturbed, cuckoos don't blast off in a flurry of wing-beats like many birds. Instead, they freeze in place, assess the situation, then skulk along a branch until there is a screen of leaves between the bird and the intruder.
YOUR RECENTLY VIEWED ARTICLES
Free tutorials, expert tips, exclusive partner offers, and more straight to your inbox!