Madagascar Waltz
Part One: Making the patterns for this pair of Madagascar grebes. Which will be made from a single piece of wood.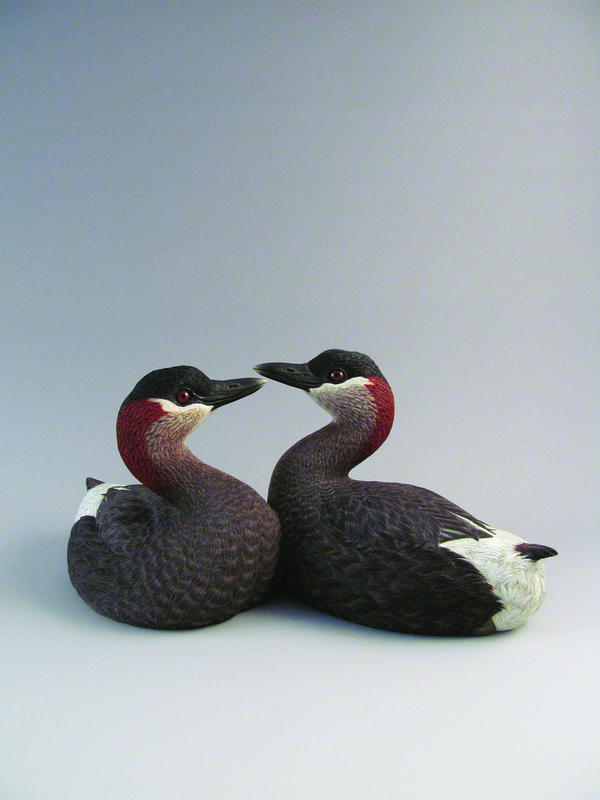 Photography by Laurie J McNeil
Once I made the decision to carve an entry for the 2014 World Life-size Decorative Floating Pairs in late 2013 I spent several weeks just researching the different species of grebes. I was surprised to learn I had 19 from which to choose. I considered great crested grebes but decided their top-heavy nature would require hollowing the heads and adding weights to keep them from tipping over and bobbling about in the tank during the judging. (For more about the great crested grebe, see "Alexandria and Maria" by Ted Smith in this issue.)

Carving a decorative from a single piece of wood is important to me, so I would have to consider this when I made my species selection.

I kept coming back to the one of the smallest grebe species in the world; the Madagascar grebe. I decided this would be the grebe for me! It lives only on the island of Madagascar in the Indian Ocean off the coast of South Africa. This species has been listed as "vulnerable," with a population of less than 5,000. Changes to its native habitat have been the greatest contributor to its decline, but the bird's small size (25 cm) tends to make it a target for large fish and other predators living in Madagascar's inland lakes.

Each grebe species has its own unique mating ritual, usually involving the "mirroring" of each other's movements in some way. I wanted my grebes to mirror each other in their own courtship ritual, but I would carve them from a single piece of tupelo and have them gazing into each other's eyes while their silhouettes created the subtle shape of a heart. I titled the piece "Madagascar Waltz".

Once I had gathered and studied my reference material, I created a clay model of the pair to aid my patternmaking. Sculpting a piece from a single piece of wood is a challenge, so starting with a good pattern is important. Furthermore, creating your own pattern is an essential step for originality and helps you find your own individual style.

Read the rest of this article in Wildfowl Carving Magazine's Fall 2014 issue!
YOUR RECENTLY VIEWED ARTICLES
Free tutorials, expert tips, exclusive partner offers, and more straight to your inbox!