Northern Gannets, Part One
You will almost be able to smell the salt air once you complete this seabird trio.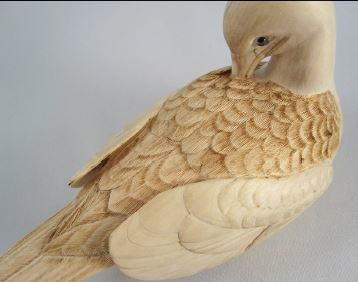 Working from back to front, I have textured the entire back and cape. I took particular care with the raised feathers as that will be a focal point.

The Northern gannet (Morus bassanus) is a magnificent seabird. Adults can reach a length of one meter with a wingspan up to twice that. Their black wingtips accent the brilliant white plumage and, during breeding, the beautiful saffron color of the head and neck. Gannets have short legs that make them awkward on land, but they are pure magic in the air and can glide for hours. When they dive for fish they turn into torpedoes, making almost vertical plunges by folding their wings parallel to the body during the dive and then folding them further back to assume an arrow shape as they hit the water.

The fish don't stand a chance! Despite the gannets' spectacular appearance and aerobatics, carvers haven't paid them much attention. Granted, a full-sized gannet carving would be an ambitious project, but miniatures are a different matter.

I decided to carve a gannet trio for the 25th anniversary of the Prairie Canada Carving Competition in Winnipeg. Gannets are colony dwellers, so I wanted to carve at least three and display them in their breeding and nesting habitat of sheer rock cliffs. In this article, I will describe the carving of only one of the gannets, and I've chosen probably the most challenging, the bird in the preening position. I've provided the patterns for the other two, and most of the instruction can apply to any of them.

I used inserts for the primary feather groups for all three birds. The position of the wings makes it difficult to do the carvings in one piece. While inserts present some challenges, it is possible to get very good results if you take care. For the preening gannet, I made the head and body from one piece. That's also possible for the other two birds, although doing them in two pieces makes it easier to deal with the wood's grain direction.

I will describe the painting of the gannet and construction and painting of the rock habitat in a subsequent article.

This article is from the Spring 2012 issue. For more information on our issues, check out our issues page.
YOUR RECENTLY VIEWED ARTICLES
Free tutorials, expert tips, exclusive partner offers, and more straight to your inbox!