The Walls Have Eyes
This owl is designed to just hang around.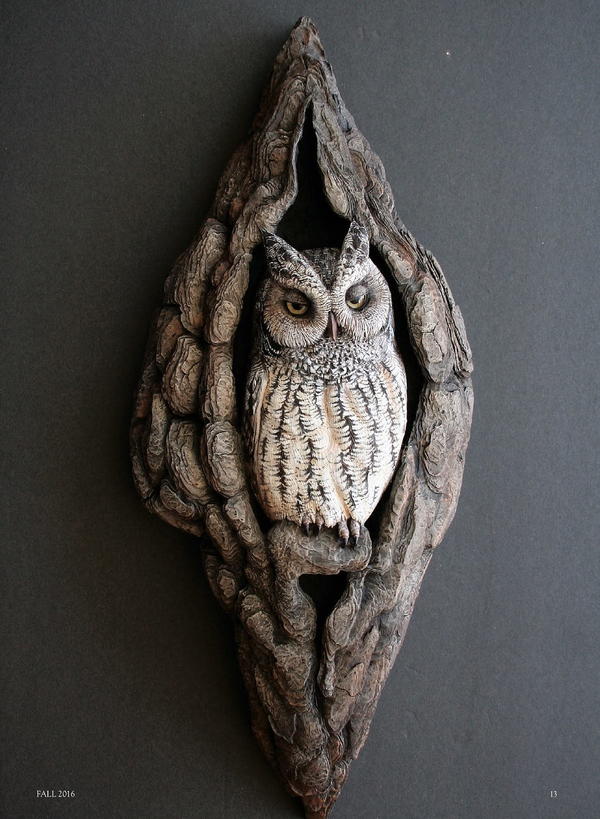 A sneak peek of page 13

Tom Baldwin is an award-winning wildfowl carving artist. He won the M & T Printing purchase award at the Canadian National Wildfowl Carving Championship in 2013, and back-toback best in shows at the Wings and Water Festival in 2010 and 2011. In 2014 he received an award of excellence at the Kaleidoscope Annual show. Tom lives in Cuyahoga Falls, Ohio, with his wife, Barbara, and their two dogs. You can see more of Tom's work on his website, www.songofwood.com.

A client showed me a fairly common photo of a screech owl half awake in a hollow of a tree. She wanted me to recreate the photo in a carving that she could mount on the wall. I loved the idea of creating an owl-inhabited tree for a wall instead of a table or shelf. Having done a few wall-hanging pieces in the past, I was up for the task.

I enjoy the challenge of designing a piece that meets the vision and imagination of the client, and this looked like a fun one. After establishing the size and scale of the piece and receiving measurements and even photos of where this owl would eventually rest, I began the layout, design, and drawing process. I wanted this to be a solid, one-piece carving without inserts. Doing it that way is not a huge concern, but carving a sculpture from a single piece of wood always seems more artistic to me. It is my hope that, rather than trying to copy this piece exactly, you use the step-by-step tutorial as a guide to help you visualize and create your own wall-hanging wildfowl carving. It seems the majority of what wildfowl artists do is tabletop bound, and I hope to convey the challenges that wall mounted carvings demand. So spread your creative wings, and try something a little bit different.

This is a power carving tutorial—you will need a Foredom and some brand of micro motor. You will also need a face mask and a dependable method of collecting dust while you are working.

This article is from the Fall 2016 issue. For more information on our issues, check out our issues page.
YOUR RECENTLY VIEWED ARTICLES
Free tutorials, expert tips, exclusive partner offers, and more straight to your inbox!