Say No to Dust
This carving bench will help you keep your shop--and your lungs--clean.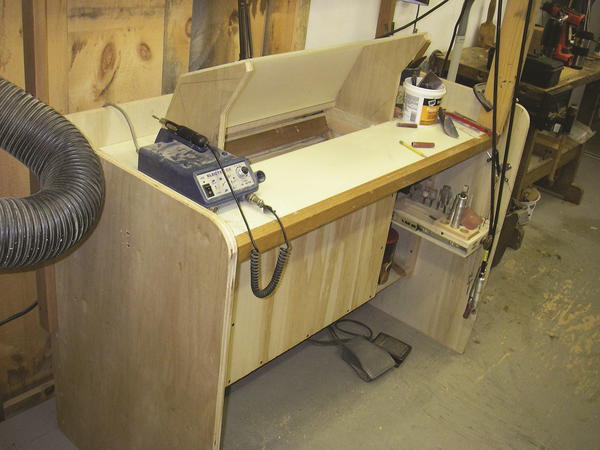 Dust is part of carving, whether it's from power carving or sanding. I designed a carving bench that collects about 95% of the dust. (This bench also works well if you use an airbrush for painting.) Carving friends and students who saw it wanted their own benches, which they could "accessorize" as they wanted (such as adding shelves). These plans are the result of various iterations.

The main parts of the desk are the tabletop, side panels, back panel, fan, bottom shelf, dust box, and shroud. The shroud, which sticks up from the tabletop, leads to the fan. The fan draws air into the dust box, which has a filter and a cutout in back for the fan. The filter collects the dust and overspray as the fan draws in air and blows it out the back of the desk. In front of the shroud is the space for carving, painting, and other work.

This setup is quieter than a shop vacuum. It's also quieter than a dust collecting system. And it's more efficient than a dust collection system hung from the ceiling.

You can make the desk from two 3/4" 4' x 8' sheets of plywood, plus a sheet of acrylic plastic for the shroud. I would not use pressboard or fiberboard; both can easily warp. You can make the desk for less than $150—a whole lot less if you build it from the wood scraps in your shop or the plywood bins at the big-box stores. For instance, I used scrap wood to make cleats ¾" x 2" by whatever length I needed.
YOUR RECENTLY VIEWED ARTICLES
Free tutorials, expert tips, exclusive partner offers, and more straight to your inbox!