ACEO Sculptures
The format may be small, but the potential is huge.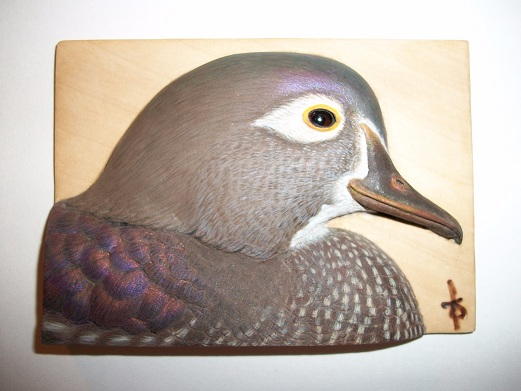 In 2008, eBay introduced me to an art format based on an old tradition called "Art Trading Cards" (ATCs). Back in the 1400s, the Great Masters would create ATCs and carry them around as a way to advertise their own work. Artists used these pocket-sized advertisements not only to generate commission work but also to trade with other artists. Then and now, ATCs were traded and not sold.

Art Cards Editions and Originals (ACEOs) are fashioned after the traditional ATCs. Their only rule is that they must be 2 1/2" x 3 1/2", like common trading cards such as baseball cards. However, ACEOs are sold, sometimes for a great deal of money.

Once I discovered ACEOs, I began drawing two-dimensional abstracts and then moved on to songbirds and wildlife. These little cards were fast and easy to create and portable as well. I used my lunch breaks at work to draw and paint cards, and I sold them successfully on eBay for about a year. But I really missed carving.

In 2009, I had a notion to try my hand at carving ACEOs, something I had never seen. I used my band saw to cut out five pieces (2 1/2" x 3 1/2" x 3/8" thick) from some scrap tupelo. Then, I went through my old patterns to find something I had already taken the time to draw. Using old project patterns, I needed only to reduce my original life-size pattern to fit the smaller format of the ACEO.

This article is from the Summer 2012 issue. For more information on our issues, check out our issues page.
YOUR RECENTLY VIEWED ARTICLES
Free tutorials, expert tips, exclusive partner offers, and more straight to your inbox!