The Greater Yellowlegs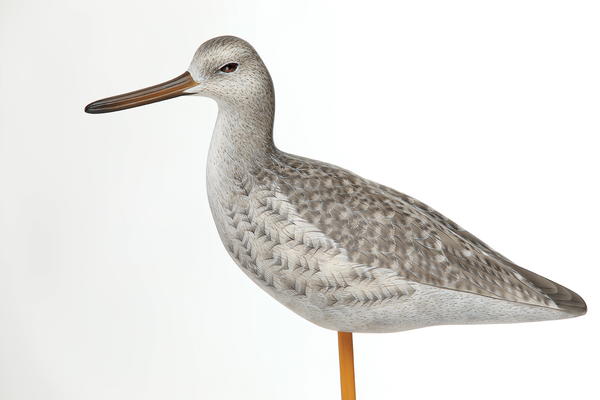 Shorebirds have always been favorite subjects for me. My first experience with a shorebird carving was at the behest of my mentor, Bob Berry. That started me on a 35-year journey. I hope to inspire others to begin something similar.

Taxonomically, the family Tringini is far from the largest family of shorebirds, and the greater (Tringa melanoleuca) and the lesser (Tringa flavipes) yellowlegs are just a small part of the Tringini family. However, they were among the most popular subjects for North American carvers of yore. Yellowlegs are some of the most common of the surviving decoys from the days of shorebird hunting.

In the field, the lesser is only about three-quarters the size of the greater. I almost never see them together so it can be hard to distinguish between them based on size. The most obvious difference is the bill. On the lesser, it appears almost needle-like; somewhat shorter, but much thinner. The greater has a heavier, sometimes upturned, bill. This difference becomes very obvious after some field observation. In this article, I'll concentrate on carving a greater yellowlegs. However, the anatomy, feather structure, and colors are so similar you could convert everything to a lesser by reducing the pattern and slimming the bill.

One side comment here: Most competition birds today are oversize. (I think many competitors believe a good big bird will beat a good small bird.). That aside, you do have a wide latitude when sizing your yellowlegs. 

Shorebird bills are frequently long and slender. Carving them out of wood while retaining strength and durability can be a problem. I have developed a technique using hardwood dowels to resolve this issue. It depends on achieving a tight joint between the dowel and the head piece. I have found that the imported dowels from big box stores vary greatly and are almost always undersized. I use only birch or poplar dowels from the better hardwood stores. In addition, the dowel must be large enough in diameter to accommodate the bill shape. In this case I'll use a 1⁄2" thick poplar dowel. Because twist drills normally "walk" a bit and drill oversize holes, especially in tupelo, I use a Forstner bit. I will illustrate my bill/dowel technique in some of the following steps.
YOUR RECENTLY VIEWED ARTICLES
Free tutorials, expert tips, exclusive partner offers, and more straight to your inbox!